Entry Fee
There is a one-time only $100 fee to gain access to the Pontiac Intelligence Platform. This $100 is inclusive of any relevant sales tax. The first $100 is used to cover the initial one-time Entry Fee and any money above the $100 can be used to purchase media. For example, you initially deposit $300 into your account, you will have $200 remaining to purchase media.
Software User Licensing Fee
Unlike most programmatic platforms, Pontiac is fully transparent and charges a 20% margin which is applied to the all-in cost of media purchased through the platform. This is a usage-based fee for access to the Pontiac buying and artificial intelligence (AI) optimization platform. All media is purchased on a CPM basis and the all-in cost includes any fees Pontiac incurs in the actual procurement process, such as third-party bidder fees, credit card processing fees, exchange fees, data fees, and any other fees that are incurred prior to the publisher receiving payment for their specific ad units. All of these fees, if incurred, are bundled into the CPM the Pontiac seat user pays, which will include the Pontiac 20% margin usage fee. The standard Pontiac Software Licensing fee starts at 20%, with the potential to move to tiered pricing tied to spend commitments.
Tier Schedule: The Software Licensing Fee will reduce based on the amount of money spent through the Pontiac platform. The schedule below shows the 12-month tiering system. The numbers are based on gross media spend through the platform per month. While the platform will show 20% as the fee, a credit memo will be issued in the amount of savings accrued through the spend threshold. In order to move to tiered pricing, an MSA must be signed. Reach out to the Pontiac Team through the Help Center for more information.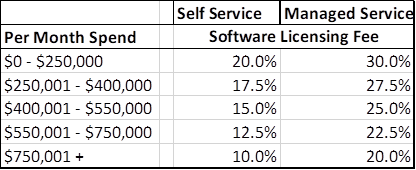 Creative Overage & Hosting Fees
Creative Overage Fees
Pontiac now applies a $2.50 fee per Gigabyte served over the max file size for each creative unit as follows:
150kb for banner and HTML5
200kb for native
100MB for video
1MB for audio
This is an additional fee that is broken out in your 'balance history' and is deducted from the account balance each day as a separate charge from your 'daily spend' on media.
To see the weight of an uploaded Creative, open the Advertiser and click on the name of the Creative to the Creative window. Above the green box with the Preview of your Creative you will see 'File Size: ' with the weight of the file.

Video Hosting Fees
Pontiac now applies a $0.50 CPM charge for videos which are uploaded and served from our platform. This is an additional fee that is broken out in your 'balance history' and is deducted from the account balance each day as a separate charge from your 'daily spend' on media.

Minimum User Fee
Each user must spend a minimum of $25 USD per month on the platform. If monthly spend does not exceed $25, you will be charged as such:
$25 – any monthly spend = Minimum User Fee
For example, if you spend $15 USD in a month, the Minimum User Fee will be $10 USD. Your credit card will be charged this fee on the first of the month.
Managed Service Fee
Pontiac offers a Managed Service solution in which one of our experienced Account Managers can manage your campaigns for you. Managed service campaigns are priced on a dCPM with a fully transparent 30% software licensing fee, and require a signed Insertion Order (IO).  There is a $1,000 monthly spend requirement to receive Managed Service. Read more about our Managed Service Offering here: Service Offerings.
Partnership Program Fees
Pontiac has two Partnership Program offerings, the Agency Solution and the Co-branded White Label. The pricing for these options is as follows:
Agency Solution:
There is no additional cost to leverage the Agency solution.
Co-branded White Label:
$2500 set-up fee
$1000 monthly fee
Read more about the Partnership Programs here: Partnership Programs