LiveRamp is a data management platform (DMP) that allows you to upload personally identifiable information (PII) that you have about your audience. This can include:
Name and postal addresses (NAP)

Email addresses

Phone numbers

Client customer IDs (your internal customer IDs)

This functions as an audience key that allows LiveRamp to delete duplicates in an uploaded file. If there is no customer ID, LiveRamp will use either the email addresses or NAPs provided.
You can upload a csv, tsv, or txt file containing information into LiveRamp, which will match the submitted information with cookies and allow you to target these individuals across the Internet through Pontiac.
We recommend clients allow for a two-week lead time when working with LiveRamp. 
Getting Started with LiveRamp
Uploading Files to LiveRamp
Managing LiveRamp Files
Distributing LiveRamp Files
Pushing Files to Pontiac Intelligence
Removing Segments 
Getting Started with LiveRamp
Download and sign this addendum: LiveRamp Addendum

Email the signed addendum to your Account Manager and include the following information:

Email that you would like to be used for the account
Name for the Account
Name of the Audience

Your Account Manager will create an account on your behalf using the email address you provide, as well as the Audience Name you wish to upload all files to.  Once your account is set up, you will receive an email from LiveRamp asking you to follow a link for creating a Password. After establishing your Password, you will be able to sign into LiveRamp with your email address and new password.
Uploading Files to LiveRamp
Once you have signed into your account, you should be brought to this page:


You are now ready to upload data files into the audience that your AM created for you. From the Homepage (which you can access by clicking on the triangle symbol next to 'LiveRamp Connect' in the upper-left corner, pictured above), select 'Upload a File' and follow the prompt.

The maximum number of records allowed per Pontiac seat is 300,000.
Within the File Upload page, select the name of your audience from the drop-down 'Upload to an Audience' menu.


Once you have selected the audience, a box will appear prompting you to either drag in or select the appropriate file. You should proceed to upload the desired csv, tsv, or txt file containing the information that you wish to target.




Once you select your file, you will be prompted within the 'Upload Status' window to click 'Upload File'. After you do so, the file should begin to upload.

Once 'Upload Status' says the file upload is complete, you will have the option to select a button that says, 'Go to Audience' within the 'Upload Status' box. If you click this immediately after uploading, another tab will open in your window to bring you to the 'Manage' page for that audience. You will likely not see any segments listed within the audience. Do not be concerned— it may take 24-48 hours for the newly uploaded segment to appear. Keep in mind that the audience will emerge in 24-28 hours, but the matching and delivering process can take up to 5-8 days. LiveRamp will send you an email to state that your files are now ready for distribution.
Managing LiveRamp Files
You can check back in on this screen to view if your file is available by hovering over 'Manage' on the sidebar and selecting 'My Files'.
You should also receive a notification (a red numbered circle next to the bell in the upper-right corner of the screen) as soon as the segment is available.
You can check back and see the status of an upload by selecting 'View' from the left sidebar and selecting your audience's name from the dropdown. 
Once an audience has been successfully uploaded and matched you should be able to see details about it.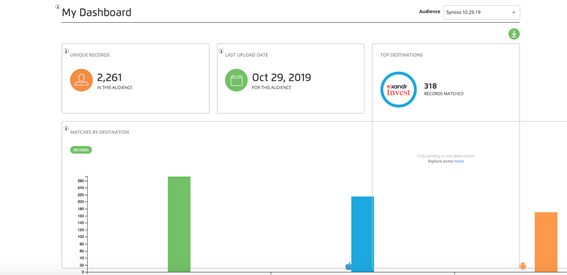 Distributing LiveRamp Files
 In order to export your segment(s), you must set up your ability to send your data to Pontiac through Xandr. The first step for setting up a destination is to select 'Out' from the menu on the left side of your screen and select 'My Destinations'. Then click the 'New Destination Account' box.

You will be brought to a page listing many possible destinations. Use the search bar to look up 'Xandr Invest' specifically.


When you hover over the icon, you should be prompted to 'Activate' the destination. Click the 'Activate' button.

You will be brought to a page titled 'Configure Properties' that prompts you to enter some information. For 'Client ID', put 3344.


After you have set up Xandr as a destination, you will be able to push your audience segment to distribution. Select 'My Destinations' from 'Out' in the sidebar.

Select 'Manage' from within the Xandr box.


Select the file(s) that you wish to send to Xandr. After you have selected your desired files, select 'Add to Distribution' at the bottom of the page


Pushing files to Pontiac Intelligence
Once you have added a segment to distribution for Xandr, email your Account Manager to say that you have pushed a segment. Please provide your AM with the segment name, the date you pushed the segment, and the applicable Seat ID number. 

Your AM will inform you within 24-48 hours that the file has been pushed to your seat. Keep in mind that your LiveRamp files may be in the matching stage even after distributing the files. LiveRamp will send out an email to let you know when the matching process has been completed. 

After an account manager at Pontiac handles your request, you will have access to your audience Segment within the Pontiac console. Your audience will be located within the Audiences tab under 'On Boarded'.

Removing Segments
Any segments that are no longer being used in the Pontiac console or in LiveRamp should be removed from distribution. Your Account Manager will send a friendly reminder at the end of each month, reminding you to remove the segments that are no longer being used. The maximum number of records allowed per seat at any given time is 300,000.
To remove the segments from distribution, click on the out section in LiveRamp, and then click the 'Manage' button in Xandr Invest. There you will see all your segments that have been uploaded. Click the box next to the segment that you wish to remove from distribution. At the bottom, there will be a green button that states, remove from distribution. Once you click 'remove,' the process will be complete.