Overview: Our DOOH solution is a powerful way for advertisers to engage consumers while they are on the go. DOOH serves across place-based media (taxis, malls) and large format out-of-home (bus shelter, curbside billboard). Select from 2.4 million screens across the United States, Canada, Australia and New Zealand.
Use Cases: DOOH is a strong placement to reach consumers in contextually relevant environments. Units drive mass awareness and reach across screens in zip codes or geos for hyper-local placements.
KPI: Impressions, Brand Awareness
Media Type: Banner, Video, Video with Audio
Placement: Ads will serve OOH screens within selected zip codes across venues such as Residential (Apartment Buildings), Retail (Pharmacies, Malls, Grocery, Convenience Stores), Point of Care (Doctor's Offices, Veterinary's Offices), Financial (Banks), Outdoor (Billboards), Transit (Taxi and Rideshare TV), etc.
Bid Structure: Bids will vary based on venue type and availability but could range from $5 to $45 CPM. Each venue selected in the platform will display an average bid amount as well as a recommended bid amount.
Audience Data Targeting: Audience Data is NOT available for targeting. Targeting is based on location or venue type.
Specs: Creative sizes will vary based on venue type and specific location. Each venue type in the platform will display the unit size, and whether video, audio or static is support.

Setup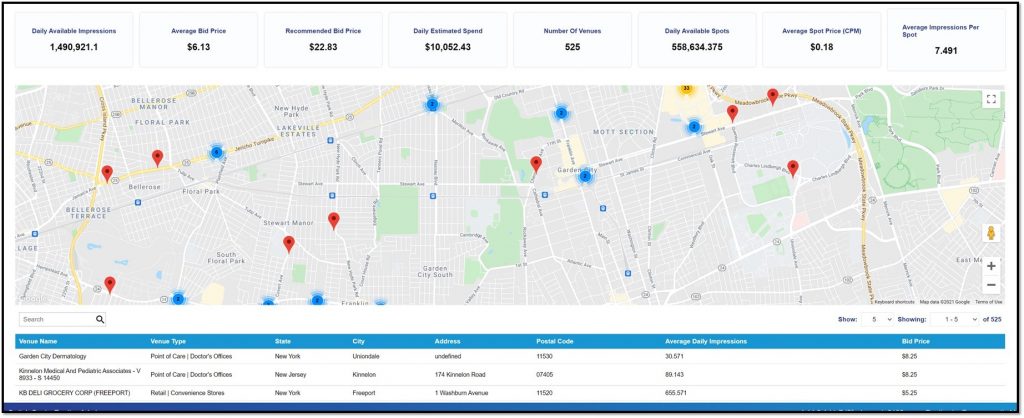 Create an Advertiser, then click on the Advertiser to open the Advertiser menu.
Under the Advertiser select 'New Creative'. Select the creative type and size and upload the Creative file. For videos indicate whether the creative contains audio.
Create a new Line Item, set flight dates, total budget, and the bid for the campaign.
Open the Targeting section and fill in the desired targeting parameters to find available venues – venue type, state, zip code, publisher, creative type – then use the 'Update' button to view the list of available venues. Each venue will display venue type, venue address, publisher, and a recommended bid price (this bid price is a CPM). Add the selected venues to your campaign by checking the box next to the name of each. Then select the 'Add Selected Venues to Targets' button.