Cloning Segments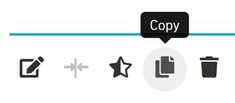 To clone an Audience segment, navigate to the Audience Dashboard and check the box next to the Audience. Select the 'Copy' icon from the menu, give the segment a name, and 'Create Copy. This feature allows you to create various iterations of the same data, by cloning the audience and then applying different Third-Party filters. 
Applying Third-Party Filters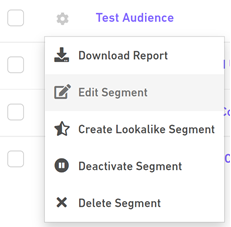 Additional Third-Party Filters can be applied to any existing audience. This feature allows you to utilize Third-Party data to filter for certain demographics within your First-Party data. For example, apply a filter for 'Women', to create a new audience segment that contains only the women from within your onboarded data. Narrow down the audience pool to the most relevant users, while maintaining the anonymity and privacy of users.  
Merging Segments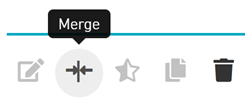 To combine multiple segments, navigate to the Audience Dashboard and check the boxes next to two or more audience segments. Then use the 'Merge' icon to combine these segments into a new segment.  
Select 'Common' or 'Distinct'

 

Select 'Business' or 'Consumer'

 

Give the merged audience a new name


Lookalike Segments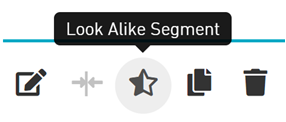 A Lookalike segment can be created from any existing segment in Semcasting, this includes both First-Party Data and Third-Party Audiences. To create a Lookalike segment, navigate to the Audience Dashboard and select the gear symbol next to the audience name. From the menu that appears, select 'Create Lookalike Segment'. Give the segment a name and enter the desired geo. Follow steps in 'Publishing an Audience to Pontiac' to make this new segment available for targeting in the Pontiac platform.