Overview: Third-Party Audiences allow highly specific targeting (or anti-target) both contextually, by demographics, by behavioral characteristics and more. When layering Third-Party Audiences onto your campaigns, you ensure delivery to users who fall in the specific categories that you selected and that are most relevant to your campaigns. 
Use Cases: Third-Party Audiences should be leveraged when trying to target a specific group of people based on characteristics, demographics, behavior and more. They are most useful when the advertiser's target audience can be defined by one of the data segments.  This allows targeting of that audience on any website. See more on Third-Party Audiences here: Third-Party Audiences.
KPI: Click Through Rate (CTR), Cost Per Acquisition (CPA)
Media Type: Display, Native, Audio, Video, CTV
Placement: These audiences can be layered onto campaigns of any media type.  If serving in CTV, you must use TruOptik audiences.
Bid Structure: The bid ranges align with the campaign's media type; however, each Third-Party Audience has a respective cost, that will be added to the CPM of your media. The CPM for the Third-Party Audience can be seen in the right-most column of the list of Third-Party segments. When you associate a segment to a Line Item, the CPM for this segment will be automatically included in the CPM for impressions served to this audience. If you are using multiple audiences, increase bids by the cost of the most expensive segment.
Specs:  Align with the campaign's media type.
Setup
Third-Party Audiences are available in the 'Audience' tab.  You can easily search to identify and select appropriate Audiences. Once you find a segment you wish to use, click 'Associate', and send it to the Advertiser where you wish to use the Audience.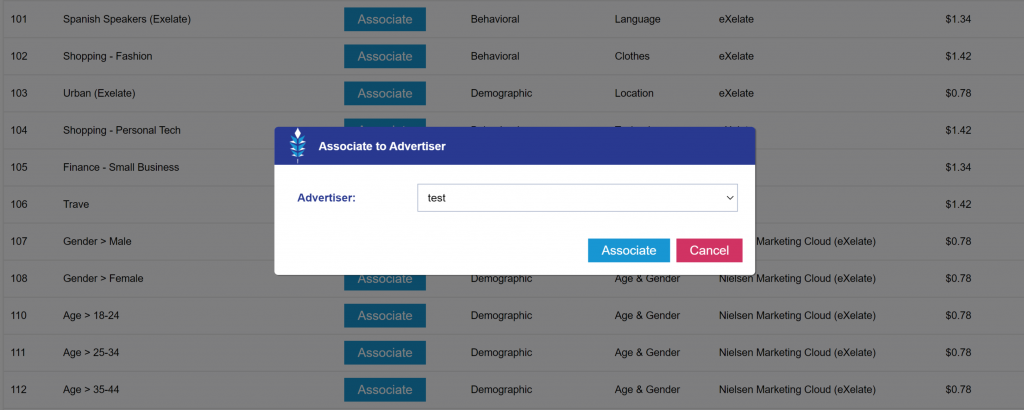 Once this is complete, your segment(s) can be associated to any Line Item in the selected Advertiser. These audiences are selected in the 'Audiences' section of the Line Item creation screen. Select 'Associate Segments' and choose the audience from the 'Third Party Audiences' dropdown. Add the average cost of all associated segments to the bid data for the Line Item.
These can be layered together with Boolean logic to target individual audiences or a combination of many. For more information on Boolean Logic see here: Boolean Logic.