Bulk Address Upload
Editing & De-activating Locations
In the Pontiac platform you can opt to receive Foot Traffic Attribution reporting when setting up a Line Item. Check the 'Enable Foot Traffic' box and in the '
In the Foot Traffic Reporting section of the Line, enter the addresses that you would like to monitor for Foot Traffic Conversions. These addresses must be commercial addresses and will be validated by Google Maps. If the validation status appears as 'Invalid', you will not be able to receive reporting for this location. 
Foot Traffic Attribution is only available in the United States at this time. The cost for Foot Traffic Attribution is $1.50 CPM. For campaigns receiving Foot Traffic reports, we recommend adding the $1.50 CPM to the bid recommendations for the media type of the campaign.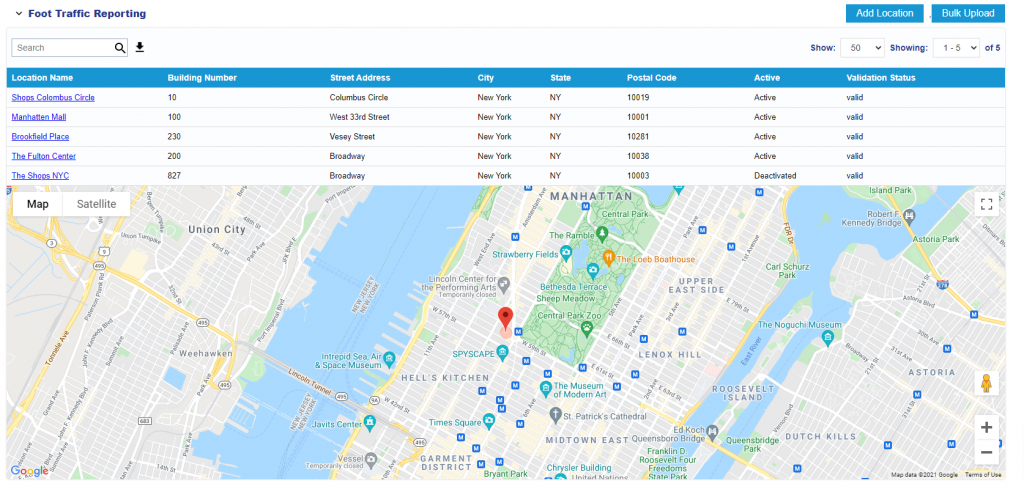 Bulk Address Upload
To Bulk upload addresses you will need to create a CSV file. The addresses must be entered in the following format with no column headers:
Location Name, Building Number, Street Address, City, State, Postal Code, Active Status
If you would like the location to be Active the 'Active Status' column should have a 1. If you would like the location to be Inactive the 'Active Status' should have a 0.
In this example shown below, all of the addresses will be active except 'The Shops NYC'. 

Save the file as a CSV with no column headers and upload it by clicking the 'Bulk Upload' button under 'Foot Traffic Reporting'. Double check before submitting the Line Item that all of the addresses look correct.  
Editing & De-activating Locations
Foot Traffic Addresses cannot be edited once the Line Item has been submitted. If you need to change the details of the address you will need to deactivate the address and enter the new address as a separate entry.
To deactivate a location previously entered for Foot Traffic Reporting, open the Line Item and expand the 'Foot Traffic Reporting' section to view the entered addresses. The 'Location Name' should appear as a hyperlink. Click on the Location Name to open the Location Settings window and un-check the 'Active' box, then click 'Save' and 'Submit Changes' to the Line Item.