Overview
The full White Label solution removes the Pontiac name and logo fully from the platform, and only displays your company information.  Through a CNAME domain setup, you can create the exact URL you would like the platform to display.  This solution also offers email masking to send all reports, and receipts from an email domain that features your name, colors and logos.  This full white label will allow you to hide everything Pontiac from the platform including your very own registration page.  All signups from the customized registration page will automatically be added to your sub seat portal.  Note, if your clients are using LiveRamp, the Pontiac Intelligence name will appear in the Liveramp platform.
Your masked emails will come from an email that has been set up to be the automated delivery sender.  These will be for receipts of charges in the platform, and account notification emails, such as low account balance, seat deactivation, etc.
Pricing
To leverage our Full White Label Solution, there is a one-time, upfront cost of $1,000, and a monthly fee of $500.  All costs will be clearly outlined in any applicable legal agreements. 
Sub Seats
Pontiac sub seats are a unique feature to our platform that allow your clients to obtain access to the platform to either run or view their campaigns in their own Pontiac seat.  Your parent account will have a screen that allows you to manage all accounts connected to the master seat.  Through this you can manage the additional margin on the seats, view all spending on the seat, as well as move into the specific seat for a more in-depth view.
Client seats will look identical to your master seat, but will not feature the sub seat admin tab.  Their seat will display metrics with your margin baked into the numbers so what they see is what they pay.  This margin can be customized by seat, by accessing the "Sub Seats" tab and editing the seat.  In the popup window you will enter the margin that you will take.  Pontiac Intelligence will send you a check equal to your margin, as outlined in the Pontiac Reseller Agreement.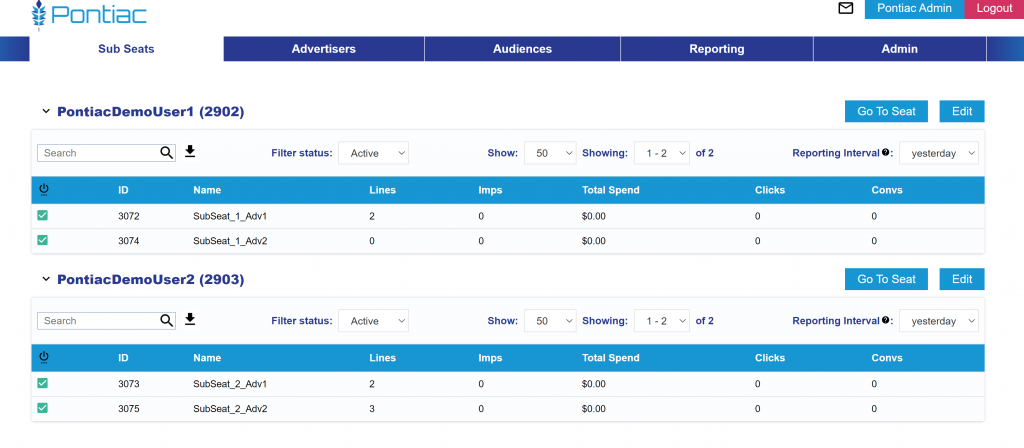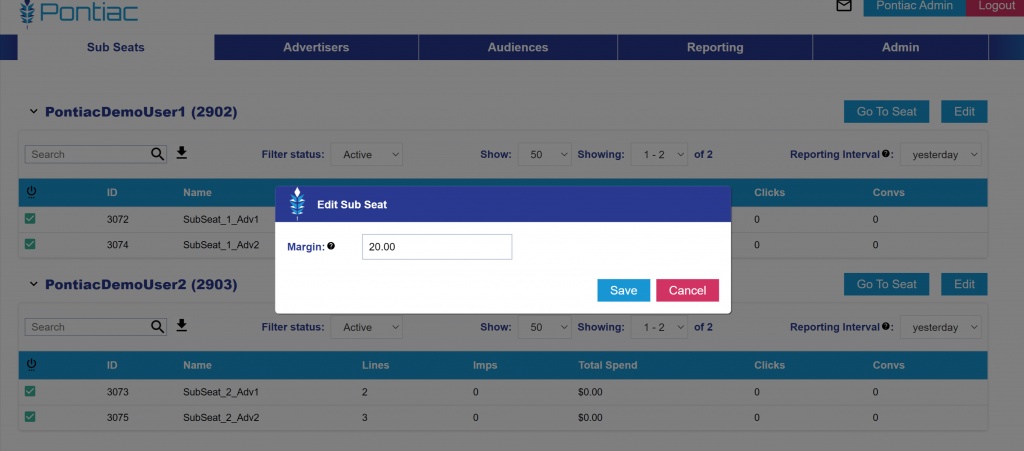 Getting Started
To get started, reach out to your Account Manger to discuss white labeling the Pontiac Platform.  From there, you will receive the Pontiac MSA and the Pontiac Reseller Agreement.  
Send us the assets detailed below and we will mock up the platform for you to preview and approve.  For this version the additional features require us to help setup the CNAME and email template setups.  Once we have received all of these assets, allow 10 business days for our team to complete the build of the white labeled platform.
Required Assets
Platform Appearance
Color #1 hex: 

Color#2 hex:

Splash Logo (520 x 291 px svg/png)

Small Logo (119 x 28 px svg/png)

Tiny Logo (48x48px svg/png)
CNAME Setup/Registration page
Wild Card SSL Certificate for the domain name

Purchased domain name for the CNAME

For the signup page (required to onboard new clients) we will require you to host the page, but we will supply the code
Email Template
Email server you wish emails to come from

Username

Password

Server Type